Are you looking for a unique, thrilling, and music-infused way to experience Minneapolis? If so, you're in luck. HumanOnaStick, your trusted Segway tour provider, is proud to introduce our latest offering: the "Prince Minneapolis Sound and Insider Segway Tour."
This isn't your average city tour. Over the course of three to four hours, we journey through more than 20 remarkable landmarks that make up the rich tapestry of Prince's Minneapolis. This is an intimate exploration of the places that inspired Prince, and the very spots where he, in turn, inspired a city – and the world.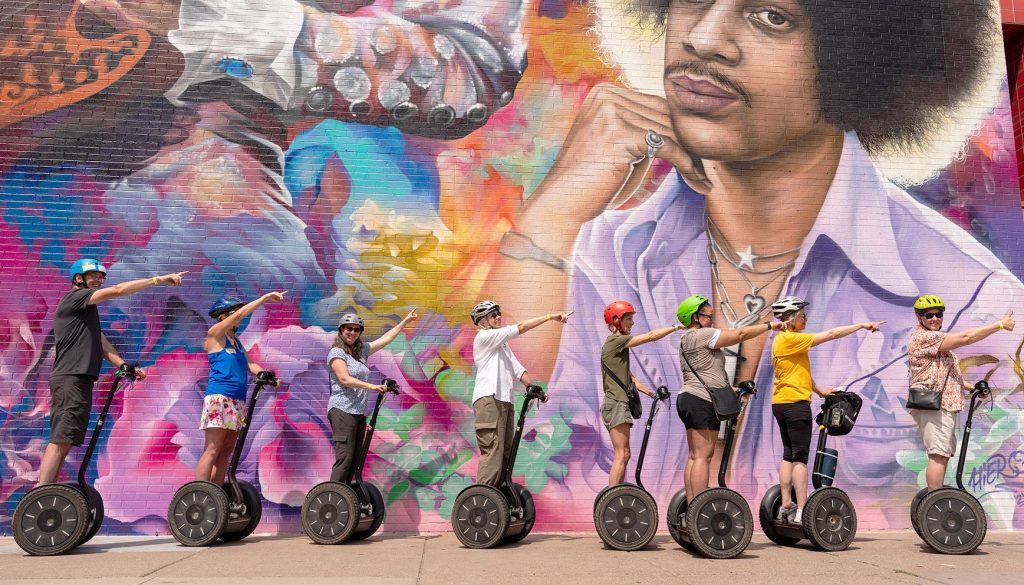 We kick off our tour in the charming historic St. Anthony Main area, from our retail storefront at 125 Main Street SE, Minneapolis. As you step onto your Segway, you're not just embarking on a tour but stepping back in time, onto the streets that Prince himself once tread.
Our route encapsulates the essence of Minneapolis, taking in stunning sights like the Stone Arch Bridge and the first bridge over the Mississippi on Hennepin Ave. Along the way, we pause at important locations like the former Prince Nightclub, Glam Slam, and the iconic First Avenue Night Club, where Prince's star shines amongst many.
This immersive journey is accompanied by high-quality audio commentary, accessible through Bluetooth for those wearing hearing aids, ensuring no one misses a beat. As Prince's music fills the air around us, resonating through our high-fidelity JBL speakers, you'll gain a deep appreciation for the Minneapolis Sound that Prince helped shape.
Midway through our tour, we take a breather at Dunn Brothers Coffee, where refreshments are provided. Here, you can process your experience so far while enjoying a cup of coffee.
From there, our journey continues, winding its way through the city, stopping at significant landmarks such as the Walker Sculpture Garden and Nicollet Mall. We cap off our tour by winding our way back down Historic Main Street to our starting point.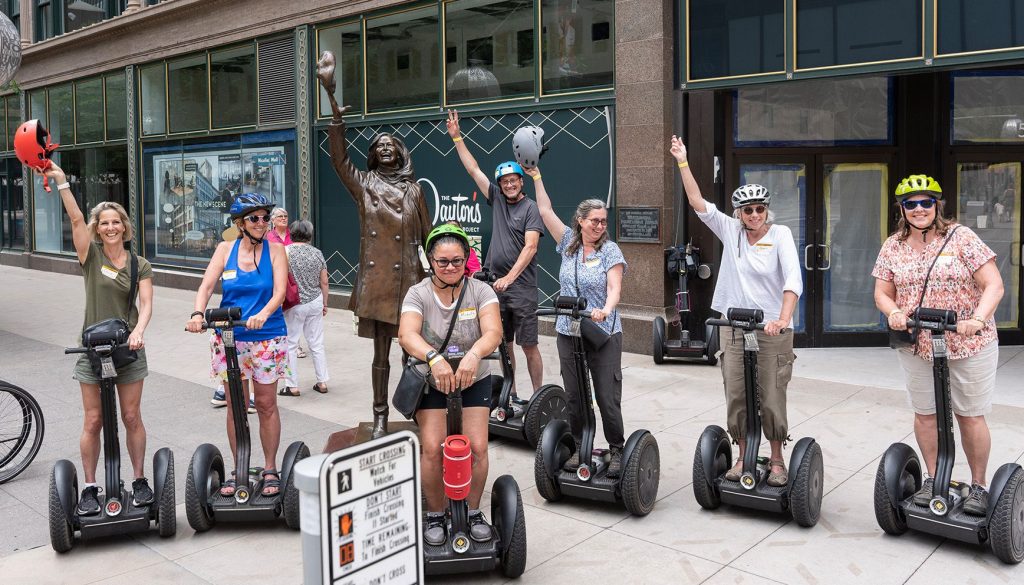 This innovative, high-tech Segway tour is more than just a sightseeing excursion; it's a tribute to a legend. It's an opportunity to understand Prince's legacy, all while experiencing the city he called home in a fresh, exciting way.
We invite you to join us in this unique experience, a harmonious blend of history, music, and technology. Let's roll together on the Prince Minneapolis Sound and Insider Segway Tour – a magical journey through time, sound, and the city we love.
Whether you're a lifetime Prince fan, a lover of music, or simply looking for a memorable way to explore Minneapolis, this tour promises to hit all the right notes. So, grab your purple attire, hop on a Segway, and let's dive into the rhythmic heart of Minneapolis.
To book your spot on this unforgettable tour or for more information, please visit our website at www.humanonastick.com. We look forward to welcoming you and sharing the magic of Prince's Minneapolis with you.