Ellen Hasting – Lead Tour Guide of The Month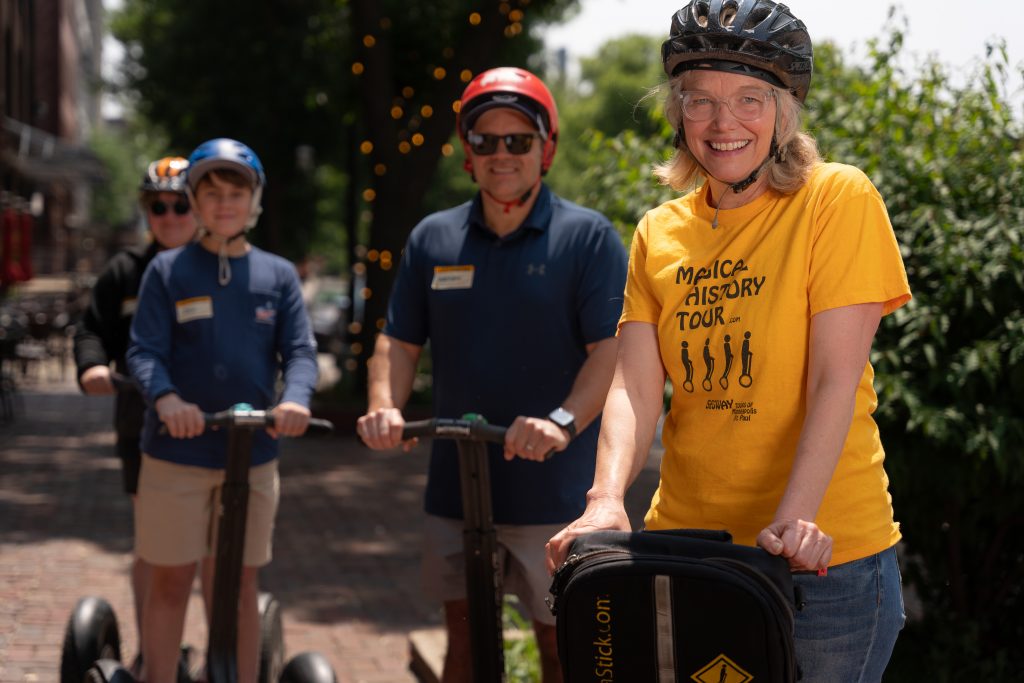 Ellen is a true Minneapolis native. Born and raised in the city, she grew up around the chain of lakes and was part of the last class to graduate from West High School in Uptown. After high school, Ellen lived out of state for many years before returning to Minneapolis in 2018 and settling close to the river.
The history of Minneapolis is a topic that Ellen finds fascinating and a constant source of entertainment. For the past couple of years she's been a general Segway tour guide for the Mill City to Boom Island route. She's excited to step up as a lead guide along this loop that passes the old mills and treks across the Stone Arch Bridge. She enjoys sharing the stories of the city's industrial past and how it has evolved over time. She's also delighted to be part of the team developing the new tour with a focus on Prince, our hometown icon. This tour combines Minneapolis history with a celebration of Prince's legacy while gliding smoothly along on a Segway through the streets of downtown Minneapolis. Some might say it's as fun as partying like it's 1999!
The Segway mode of transportation makes all of our tours truly unique. This smooth-riding technology allows Ellen, and all of our guides to cover more ground and share more of the city on each tour.
So if you're looking to explore Minneapolis's history and iconic landmarks, hop on a Segway tour with Ellen. She'll take you on a journey through time while sharing her love for the city and its history.
FOR IMMEDIATE RELEASE
New Segway Tour in Minneapolis Spotlights Hometown Icon Prince
Minneapolis, MN – A new tour on Segways is taking riders on a smooth ride through Minneapolis, highlighting the city's rich history and culture. The tour, led by Ellen, a local guide who grew up in the area, offers riders a unique perspective on the city's loop around the river.
The tour's newest addition is a focus on Minneapolis' hometown icon, Prince. Riders can celebrate the music legend's life while experiencing the city on a Segway. The tour passes by old mills and treks across the Stone Arch Bridge, providing a wider view of the city's landmarks and history. In addition to the Mississippi River, we take riders to the most famous Prince "insider locations, such as First Avenue, Glam Slam, Dakota Jazz Club and Loring Park, famous for Prince's first public concert location when he was 17. Many photo opportunities that could only be done on a Segway Tour!.
"We're excited to offer this new tour that combines two of Minneapolis' greatest assets – its rich history and the music of Prince," said the owner Bill Neuenschwander of Mobile Entertainment, LLC, DBA HumanOnaStick tour company. "Ellen's passion for the city and its history shines through in every tour, and we're thrilled to have her as our lead guide for this new experience."
Limited tours are available for booking now and can be reserved through the tour company's website. Riders of all levels of experience are welcome to join in on the fun.
For more information, please visit the tour company's website.
Contact: Minneapolis's first and only Segway Tours HumanOnaStick – Phone: 952-888-9200 Email: Bill@humanonastick.com